Enjoy starry sky with M+Stellar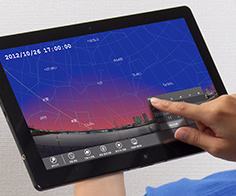 In conjunction with sensors such as electronic compass, inclinometer, accelerometer and GPS on your Windows tablet PC, M+Stellar displays the star chart just as actually viewed real-time, on site, and in the orientation of the device. No need to set the date and time, which is required with planispheres.
User-friendly for everyone at any age, M+Stellar is an ultimate star watching tool at your fingertips, helpful as a mini star encyclopedia, or a pointer to currently visible planets.
Realistic graphic shows the stars twinkling, the moon wax and wane, gradation of the twilight sky over the landscape, hazy glow of the milky way, along with the constellation lines/pictures whenever desired. Precise simulations are available for skies from 1900 to 2099, which means you can see what the sky was like on the day you were born!
About M+Stellar
OS: Windows 8 / 8.1 / RT / 10
Platform: x86/x64/ARM
Language: English, Japanese
Developed by AstroArts Inc.
Release date: October 26, 2012