Company
We are a young team developing astronomy software, publishing astronomy magazines, running an online shop and doing much more for the astronomy community in Japan. We are not just working in the field of astronomy, we do love astronomy. That is why devotion, detail and care are going into our software and magazines.
CORPORATE PROFILE
Company Name

AstroArts Inc.

Established in

July 28, 1981

President & CEO

Masami Ohkuma

Address

Tomigaya-Ogawa Bldg.
2-41-12 Tomigaya, Shibuya-ku,
Tokyo 151-0063, Japan
LOCATION MAP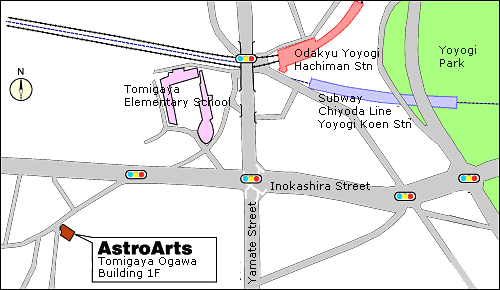 TRANSPORTATION
either on
Odakyu Line, Yoyogi-Hachiman Station (7 min. on foot from the station)
or by
Tokyo Metro Chiyoda Line, Yoyogi-Koen Station (7 min. on foot from the station)
BOARD OF DIRECTORS
President

Masami Ohkuma

Directors

Haruki Kamiyama
Masaya Kawaguchi
Tsuyoshi Matsumoto
BUSINESS DESCRIPTION
Development and sales of astronomy software.
Publishing of astronomy magazines and books.
Planning and sales of astronomy related products.
Production of educational software and books.
MAIN PRODUCTS
SOFTWARE
'StellaNavigator'
StellaNavigator is a sophisticated astronomy software for those who demand the utmost in realism and richness of detail. It realistically computes and simulates star charts for any time and any place on Earth. StellaNavigator also lets you control telescopes, such as the Meade LX200/Autostar, Celestron NexStar series, Takahashi Temma series and Vixen SkySensor series.
'StellaImage'
StellaImage is a powerful image processing software for the advanced digital imager taking astronomical photographs with digital cameras and CCDs. It is capable of fast internal 32-bit floating point operations, provides numerous standard digital filters and supports multi-format files.
'StellaGear'
Recently launched, StellaGear is a new integrated astronomy software package which enables astrophotographers to control a CCD camera and a telescope simultaneously. It performs various tasks, including object introduction, CCD camera focusing, image acquisition all the way up to easy and seamless image processing.
PERIODICAL PUBLICATIONS
'Hoshi-Navi'
The monthly astronomy magazine for stargazers is packed with all the necessary information to enjoy and to get the most of star watching.
'AstroGuide' & 'SpaceGuide'
AstroGuide and SpaceGuide are annually published magazine books. While AstroGuide comes with complete information about astronomical phenomena during the year, Spaceguide offers abundant and highly interesting data about space rockets and probes.
EDUCATIONAL SOFTWARE
'Zukan Navi'
The new Multimedia 'Zukan Navi' series is very popular in Japan and highly reputed as a fine multimedia encyclopedia. To date the series covers the world of insects, plants, fishes, reptiles, amphibians and mammals. Each volume supports network functions.